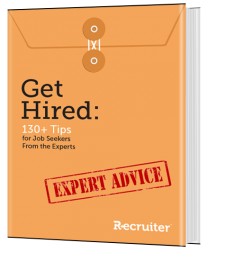 Recruiter releases massive new resource for job seekers featuring advice from over 100 career experts.
Farmington, CT, August 9, 2016 (Newswire.com) - Every step of the job hunt comes with its own challenges. From writing cover letters and resumes to acing interviews, the actual process of finding a job can be a tremendous pain in and of itself.
If you've been on the job hunt before (or are currently seeking a great new position), you know that the best-kept secrets of the recruiting process and foolproof strategies for getting hired are borderline impossible to come by — until now. Recruiter.com has helped thousands of job seekers discover new opportunities and find career paths, and now they're continuing that mission by collecting expert advice from more than 130 hiring professionals in one free, easy-to-read report.
Grab your copy today for free:  https://www.recruiter.com/downloads/get-hired-130-tips-for-job-seekers-from-the-experts/
"Get Hired: 130+ Tips for Job Seekers from the Experts" is a compilation of tips and tricks from the likes of CEOs, career counselors, recruiters, entrepreneurs, authors, hiring moguls, and many more experts who are looking to show you the way to career greatness.
"This is the ultimate guide that every job seeker needs while navigating the job market in 2016 and beyond," says Recruiter.com founder and CEO Miles Jennings. "If you're looking to soar far above the competition and become unforgettable in the eyes of recruiters and hiring managers, look no further. We regularly publish custom guides for employers, recruiters, and job seekers - this latest installment for job seekers will be well received and published on major Internet platforms. "
The Recruiter.com team asked the experts for their insight on everything from penning the perfect cover letter to emerging victorious from a meeting with a hostile interviewer. Download the eBook today and learn the skills employers really want to see in candidates, how you can stand out from the crowd, the absolute best places to look for a job, and great tools and strategies to use in your job search.
If you're currently on the hunt for a new job — or you're planning to go on the hunt someday — then dive right in and learn everything you need to know about succeeding in your search! Get your free copy now at https://www.recruiter.com/downloads/get-hired-130-tips-for-job-seekers-from-the-experts.
About Recruiter.com
Recruiter.com, Inc., is an on-line global recruiting service that offers an industry-leading job market technology platform. With a highly engaged membership base, Recruiter.com works with hundreds of clients and employers and manages a social media following of more than 2.8 million people. Recruiter.com was voted Top Tech Company to Watch in 2014 by the Connecticut Technology Council, cited as one of the Top 35 Most Influential Career Sites in 2014 by Forbes and listed by Inc. as one of the 9 Best Websites for Finding Top Talent. The career, HR, and recruiting experts of Recruiter.com have been cited and featured in hundreds of sites and publications, including: Wall Street Journal, Entrepreneur, Forbes, Mashable, Business Insider, Inc., Fox Small Business, Time, The Next Web, Yahoo Small Business, US News, Business2Community, Bloomberg and SmartBrief. Visit https://www.recruiter.com or follow Recruiter on Twitter @RecruiterDotCom.
Source: Recruiter.com
Share: